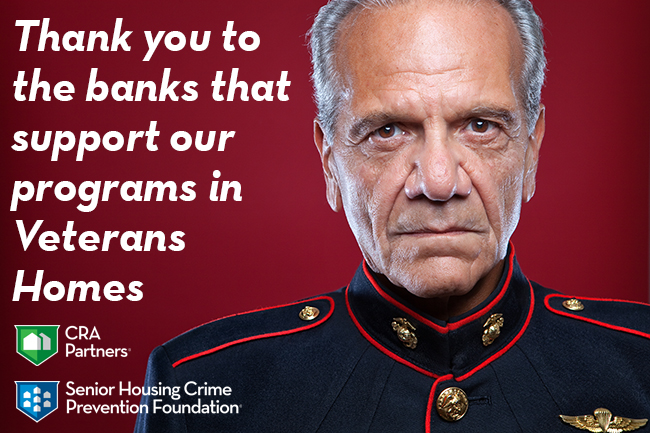 MEMPHIS, Tennessee, 11/11/21: The Senior Housing Crime Prevention Foundation (SHCPF) confirms that their Veterans initiative is now supported by 39 community banks in 19 states. The focus of the initiative is to reduce all aspects of crime and provide ongoing, effective crime prevention programs that ensure a safe and secure environment for the residents of Veterans Homes all over the U.S. Protecting the veterans that have served our country is not only an important part of the Foundation's mission, but is important to community bankers as well. CRA Partners, a subsidiary of the Independent Community Bankers of America (ICBA), brings nursing, HUD, and veterans' homes together with community banks for sponsorship in their assessment area, earning the bank CRA credit.
The Foundation's mission to combat elder abuse of all types accomplished through the installation of the Senior Crimestoppers program in senior housing facilities, which includes Senior Sentry, an on-line training course on how seniors can avoid financial fraud, a problem that has recently grown by leaps and bounds. According to the 2020 FBI Internet Crime Complaint Center report, total losses for seniors over 60Ys amounted to $1B last year, which was an increase of 30% over 2019. More than 100K victims were affected by scam artists vs. just under 70K in 2019.
So now more than ever, facilities need resources to help their residents, who are increasingly targets for hacking and phishing tactics like romance scams, grandparent scams, and charity or lottery scams. While protection for the Veterans Homes covered by Senior Crimestoppers is a great start, just 22% of the nation's 176 veterans homes are sponsored. That leaves room for many more community banks to get involved.
Margaret Melo Sullivan of Avidia Bank in Massachusetts had this to say about the bank's involvement:
 "The Veterans Initiative that we chose to participate in with CRA Partners really serves the true intention of community reinvestment. Helping senior citizens in our area, particularly those who have had a career in service to our nation, gives meaning and purpose to earning our CRA credit."
Crime against the elderly in our society is a longstanding, constant battle that can be reduced and prevented through the operation of the Senior Crimestoppers program. Senior Crimestoppers is a coordinated set of components that work together to create a zero tolerance to crime platform in senior housing facilities. Components include cash rewards up to $1,000 paid anonymously for information about wrongdoing of any kind, personal lockboxes for the residents, and effective, on-going financial education and training for staff members and residents, and their families. Senior Crimestoppers has reduced all aspects of crime in participating facilities by 95%.
"The most valuable asset is the deterrent part," said Gary Bermeosolo, Administrator at the Nevada State Veterans Home. This Veterans Day is a perfect time for compliance officers to consider the veterans initiative as part of their CRA strategy.
*****
CRA Partners and Senior Crimestoppers are operated by the Senior Housing Crime Prevention Foundation (SHCPF), headquartered in Memphis, Tennessee. For over two decades, the SHCPF mission has been to provide protection and an enhanced quality of life for vulnerable senior housing residents through meaningful, turnkey CRA compliance for community focused banks, nationwide. Funded by the banking industry and endorsed by the ICBA and over 30 state bankers associations, the Foundation has developed a low-risk, profitable solution — CRA Partners — for banks of all asset sizes and charter types – to fulfill their federally mandated Community Reinvestment Act (CRA) requirements in the form of qualified loans, investments or grants through the operation of nationally acclaimed elder abuse and crime prevention programs. For more information, visit shcpfoundation.org or call 800-529-9096.