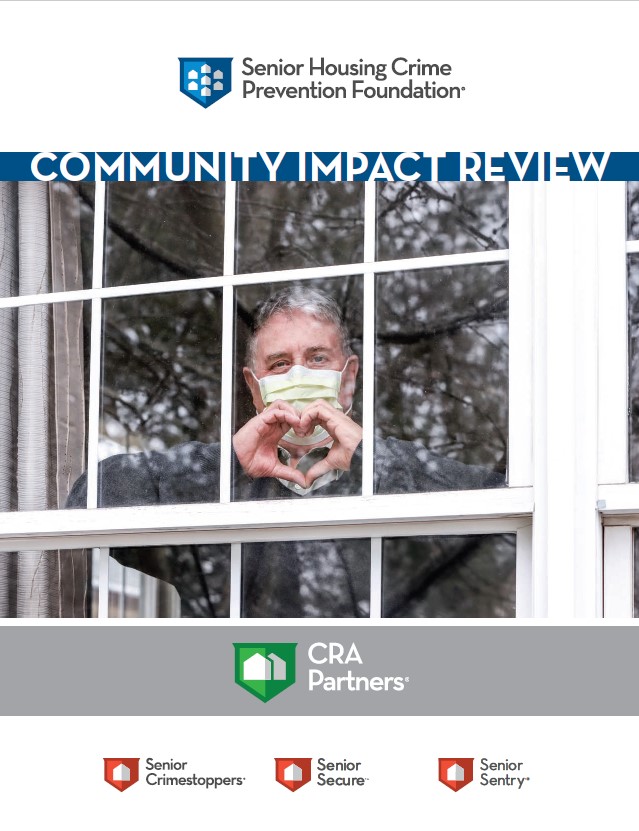 SHCPF Impact Report 2021 online
2020 – a year that we will never forget. The impact this year has made on all of us will be long lasting. Moreover, the impact on seniors has been unequaled. Thank you for your support of our mission to protect seniors, especially now.
Our mission is to provide safe and secure living environments for residents of senior care facilities. As you will see, our bank partners are protecting thousands of senior housing residents nationwide by funding our proven elder abuse and crime prevention programs – and we are so grateful for your support.
In this report, we share how banks protect low- to moderate-income seniors and earn CRA credit by supporting our turnkey programs. We are excited about the launch of two new programs – Senior Secure and Senior Sentry, in addition to our flagship program – Senior Crimestoppers. All these programs advance our mission of protecting seniors and helping banks earn CRA credit. In the ever-changing financial, healthcare and regulatory landscape, it is truly an exciting time.
It is a privilege to work with such a hard-working, enthusiastic staff and board of directors who are passionate about our mission of protecting seniors. Furthermore, I'd like to thank our network of partners—banks, bankers associations, and healthcare associations—across the country that are dedicated to enriching their communities. Our work would not be possible without you, so I extend my deepest appreciation to you in your support of our mission.
David Lenoir
President & CEO