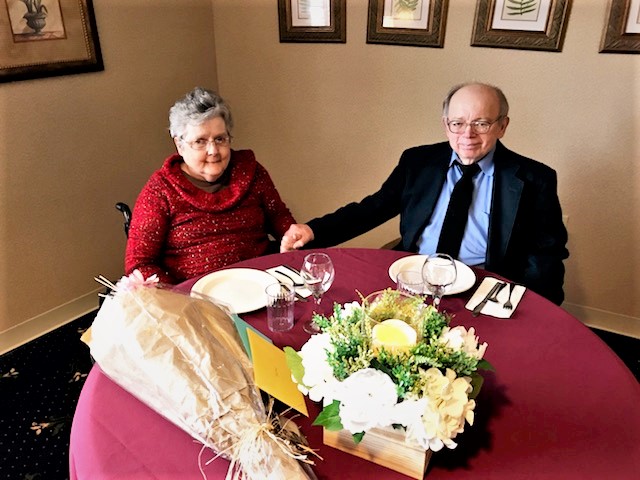 Valentine's Day is a controversial holiday. It is either seen as an opportunity for pampering and romance, or alternatively, a day that is dismissed as tacky and overly commercialized. However, people can usually agree on two things. First, the biggest perk is the post-Valentine's discounted candy, and second, wholesome love stories of older adults are always worth sharing.
Ruth and Mike Monahan are one such wholesome couple. Ruth is a resident of Bridgeway Care and Rehabilitation Center, a skilled nursing facility in Bridgewater, New Jersey. Mike, her husband, comes to visit her as often as he can. Last year, Mike expressed to the Bridgeway staff that they had never been able to properly celebrate their wedding anniversary.
Somerset Savings Bank in Bound Brook, New Jersey has sponsored the Senior Crimestoppers program in Bridgeway Care and Rehab Center since 2016, through their partnership with CRA Partners. Senior Crimestoppers' "Wish Comes True" initiative is an annual grant funded by the sponsoring bank that grants a wish to resident or group of residents and aims to improve their quality of life. Last spring, Bridgeway decided to use their 2018 "Wish Comes True" funds from Somerset Savings Bank to help the Monahans finally have the opportunity and means to celebrate their marriage.
On March 13th, 2018, Bridgeway arranged a private luncheon for the couple so they could spend quality time together and celebrate their 44 years of marriage. Mike gave Ruth a bouquet of her favorite flowers and they exchanged personalized cards. They shared a meal from their favorite local Italian restaurant, followed by their favorite dessert—chocolate cake with strawberries on top. After the meal, the couple flipped through their wedding photo album and reminisced on their wedding day and their lifetime of memories together. According to Bridgeway, "there was a lot of love, smiles, and hugs that were shared on this special day." Thanks to Somerset Savings Bank and Bridgeway Care and Rehabilitation Center, the wish of these two lovebirds finally came true.
---