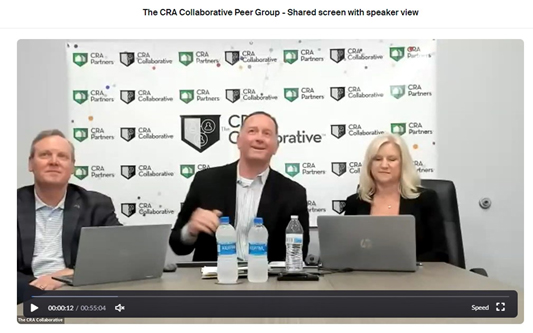 Today we formally announce the formation of The CRA Collaborative, a peer group that provides bankers with opportunities to engage in discussion around Community Reinvestment Act-(CRA) related topics.
"For more than 20 years, CRA Partners has worked with community banks to help them meet the needs of their elderly customers while earning Community Reinvestment Act credit," CRA Partners President and CEO David Lenoir said. "As CRA modernization began to take shape last year, we saw an influx of questions around the new rules and believed a forum such as the CRA Collaborative would be invaluable to bankers as they navigate questions and facilitate discussion around changes."
The CRA Collaborative will hold quarterly online meetings, allowing CRA professionals at banks to work together to share their expertise and knowledge while learning new skills and best practices. They will also have opportunities to learn about ways to optimize their CRA strategy through a dynamic team environment.
"CRA Partners has been a great resource in helping our bank take advantage of CRA opportunities in our community, and now we have another valuable tool with CRA Collaborative to help foster meaningful dialogue and share insights among a group of like-minded peers," said CRA Partners Chairman G. Scott McComb, chairman, president and CEO of Heartland Bank in Whitehall, Ohio.
The next CRA Collaborative meeting is scheduled for July 26. Membership in the CRA Collaborative is free for banks currently supporting CRA Partners programs and available through an annual subscription for all others. To learn more and join, visit https://shcpfoundation.org/cra-collaborative/.