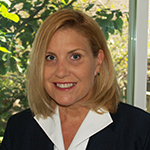 We are pleased to announce our newest Senior Crimestoppers field rep, Deb Harrington.  Deb will be serving the upper Midwest states of Illinois, Wisconsin, Minnesota, Iowa, Missouri, North & South Dakota as she provides resources and crime-prevention services designed to improve and enhance senior residents' overall quality of life while living in our nation's senior housing facilities.
Deb graduated with a bachelor's degree in journalism with a focus in marketing from Ball State University, and went on to work for a social services agency in Indianapolis where she was a job coach for adults with disabilities and then became a group manager of operations for the agency.  During this time, she also became involved with HUD as a housing tester where she worked to help identify and educate the community on the perils of housing discrimination.  
She currently resides in the Chicago area where she has lived over 25 years and worked as director of marketing for global training & development companies, as well as, director of marketing for a grass-roots car-sharing non-profit.  In her most recent role, she managed accounts in the Midwest, educating and consulting clients on challenging workers' comp injuries.
Deb brings her wealth of professional experience to SHCPF with a deep passion that goes back to her childhood— visiting and building relationships with older adults in senior housing facilities.  She is excited to pursue this passion as a Senior Crimestoppers field rep while actively promoting safety and enhancing living conditions for those living and working in senior housing facilities in our communities.