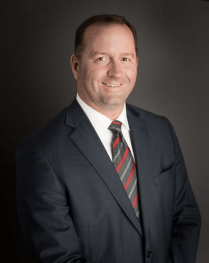 FOR IMMEDIATE RELEASE – October 10, 2018
CRA Partners and the Senior Housing Crime Prevention Foundation have named David Lenoir as Chairman, President and CEO effective immediately.
"It is a privilege to welcome David Lenoir as our new Chairman, President and CEO," commented Tom Fehrmann, CFO and COO at CRA Partners. "David is a determined and engaging leader who I believe will be an incredible asset to our organization. Please join me in welcoming David to our team!"
Lenoir comes to CRA Partners fresh off a closely contested Shelby County, Tennessee, mayoral race. He brings more than 20 years of leadership and executive management experience within the financial services industry in the municipal government, corporate and non-profit sectors. For the past eight years, he served as Shelby County Trustee, where he was responsible for $3 billion in banking activities for Shelby County Government and Shelby County Board of Education. Among other accomplishments, Lenoir turned a $10 million deficit into a $133 million surplus which allowed Shelby County to increase funding for education and reduce the county debt over $700 million.
"We are thrilled to have David join our team and lead our organization," said Terry Rooker, President of Senior Crimestoppers. "His proven leadership and banking experience will make him a great leader and voice for our program's mission."
"I am honored and excited to have been selected as CRA Partners' Chairman, President and CEO. This is a great organization that makes a positive difference in the banking industry, and I am glad to be part of it," said Lenoir.
—
About CRA Partners
CRA Partners is a compliance program that helps community banks fulfill their federally mandated Community Reinvestment Act (CRA) requirements by funding the Senior Crimestoppers program in a local senior living facility. Nearly 100,000 seniors are protected by Senior Crimestoppers, a nationwide crime prevention program educating and safeguarding against theft, abuse and neglect. To learn more about CRA Partners, visit shcpfoundation.org.
Contact:
Shea Gabrielleschi
Assistant Vice President, Sales and Marketing
[email protected] | (901) 529-4773