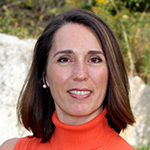 Many of the banks that sponsor our senior protection programs, particularly those in the Northeastern U.S., may already be familiar with Kristine LaVigna. She has served as the Northeast Regional Field Rep for over ten years. In that role, she worked with area bankers, as well as with health care administrators at senior communities enrolled in Senior Crimestoppers and Senior Secure programs to help them utilize the program benefits.
In order to better serve the banks that sponsor our Foundation's programs that protect seniors, Kristine has been promoted to Business Development Manager, where she will serve to unite banks across the country with low- to moderate-income senior facilities in their assessment areas, creating opportunities for CRA lending and investment test credit.
"Kristine's long history with us and deep understanding of our programs and services will be invaluable to CRA professionals that wish to expand their CRA strategy to include these innovative and essential programs that benefit some of the most vulnerable members in their communities," said David Lenoir, President & CEO, CRA Partners.
Kristine spent 18 years in investment banking in NYC before starting her own consulting practice, helping small businesses in her community develop and implement effective business plans. She is based in Ridgefield, CT, working remotely out of our Memphis headquarters.
***
About the Senior Crimestoppers program
CRA Partners and Senior Crimestoppers are operated by the Senior Housing Crime Prevention Foundation (SHCPF), headquartered in Memphis, Tennessee.
The SHCPF mission is to provide protection and an enhanced quality of life for vulnerable senior housing residents through meaningful turnkey CRA compliance for community focused banks.
Funded exclusively by the banking industry and endorsed by the ICBA and over 30 state bankers associations, the Foundation has developed a low-risk, profitable solution — CRA Partners — for banks of all asset sizes and charter types – to fulfill their federally mandated Community Reinvestment Act (CRA) requirements in the form of qualified loans, investments or grants through the operation of the nationally acclaimed Senior Crimestoppers program.
For more information about Senior Crimestoppers, visit SeniorCrimestoppers.org or call 800-529-9096.